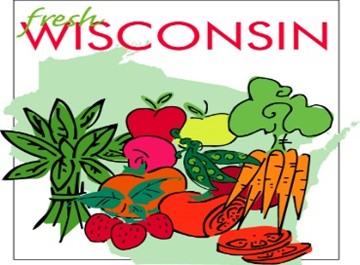 Senior Farmers' Market Nutrition Program
The Senior Farmers' Market Nutrition Program (Senior FMNP) offers income eligible, Kenosha County residence 60 years or older an opportunity to purchase fresh, locally grown fruits, vegetables, and herbs from certified farmers.
Senior FMNP checks can be used from June 1 through October 31st at any participating farmers market or roadside farm stand in Wisconsin. In addition to offering nutritious foods, Senior FMNP supports local economies by increasing the use of farmers markets and farm stands.  Each participant receives $35 (7-$5 coupons)
Who Is Eligible?
To be eligible to receive Senior FMNP checks, there must be at least one person in the household who is age 60 or older and meets income eligibility requirements. Native Americans may participate at age 55 or older.
Kenosha Senior Veggie Voucher Program   
The Kenosha Senior Veggie Vouchers Program will only be available in 2023 and has the same income and residency requirements as the Senior FMNP program. This program serves adults 50-59 years old.  Participants in the Kenosha Senior Veggie Voucher Program will also receive $35 in vouchers. Vouchers can only be redeemed at participating farmers markets or farm stands in Kenosha County.
Monthly 2023 Income Eligibility for both programs (before taxes and deductions)
Single person household…$2248
Two-person household…$3041
Three-person household $3833
Distribution of the Senior FMNP Coupons & Kenosha Senior Veggie Vouchers will take place Every Wednesday, beginning June 7th  from 8:30 am-3:30 pm at Racine Kenosha Community Action Agency
2000 63rd Street, Kenosha
For More Information Please Call: 262-657-6686